Amy Millan & Evan Cranley are having a busy week. As well as being parents to two kids, the couple also happens to play in beloved Montreal indie-pop band Stars who release their ninth album, From Capelton Hill on 27 May. When I catch up with Amy & Evan, they are about to head to rehearsal. "You know, after two years of a pandemic, it's kind of nice to be busy again," admits Millan. "I actually went into kind of a hysterical laughter crying thing yesterday when Torque started to play an egg, like, you know, these little eggs that you can play for percussion. He'd never played the egg before and I just couldn't believe that I'm still around these jokers. Like for 22 years making music, it's a little bit bonkers. It's ridiculous but fine."
Initially, the band tried to assemble the album remotely during the pandemic but ended up convening at two different Montreal studios and the band's own space, recording with Marcus Paquin (who's worked on multiple Stars albums and recently produced The Weather Station's Ignorance) and The Besnard Lakes' Jace Lasek.
Capelton Hill is a real place in Quebec with significance to the band but also represents an idea. For Evan & Amy, the meaning is slightly different. "For me, it's about a place from your youth," says Cranley. "You want to hold onto forever, but know that you can't, for me, it is a place that you live in nostalgia. You lived in your childhood memories and it's a place that you can't live in forever that eventually, you might have to let go of it, just like it is accepting middle age and the next life that's in front of you and looking back to the past and then all those things."
"It's similar for me," says Millan. "But it's not about a place, it's about really the band, like, you know, we wrote Set Yourself On Fire in North Hatley, and to me, it's like finding that this family of lunatics and having a life together, you know, it's a love song about a group of people and not just one person, you know?"
"I kinda think that our lives have finally led up to this moment," Evan suggests. "You know, there are people that didn't make it along with us to this moment, either they're dead or they've left us to pursue other things. And I just think that this is where we are as the complete arc and natural journey to this band's career so I think that mixed with that there's a lot of thankfulness that we're still doing this together. You know, it's interesting energy being between having moved on so far in our career. 23, 24 years in the music business is really like 50 years in any other job, to me. And I just think there's also a lot of gratitude mixed in with that if that makes any sense."
"We took away a lot of tricks," says Millan. "You know, one of the things we wanted to do was we wanted to write this whole record together, live in a room. That was when we first started to like January 2020, we were like, this is how we're going to do the next record. We're going to be together all the time in one room and do it and then boom, the world shut down. But we tried to aesthetically be as true to that as possible, you know, we've done this dance stuff and we've done more rock stuff and I feel like this is the closest to us just being in a room together and picking up some instruments and playing them."
Stars now have a Patreon page where their fans get access to exclusive content and support the band at the same time. Members have been able to follow along with the recording of the new record.
"It's where we have these incredible fans and it's five bucks a month. And we basically played them the making of the record," Amy tells me. "Like they heard the beginnings of all the songs before I was ever on them. And it was just Torque or just the music. They heard the making of the album. That's who the record's for. So we're not like making a record like, oh, we're going to be huge when this record comes out. Spotify has destroyed the industry anyway. We're just going to do this because it's art and you can be more true to yourself and there's just nothing to prove. Like the only way reason to do this is to connect with the people that we love and who love us and tell the truth."
Join Stars' Patreon Page here: patreon.com/youarestars
Watch the full interview with Amy & Evan below:
Stars performing songs from the new album LIVE on release day From Capelton Hill itself
**The stream will be available for 48hours for those who cannot view it live**
*This is an album tour fundraising event, tickets 5$ or pay what you want to help support the band and their touring crew*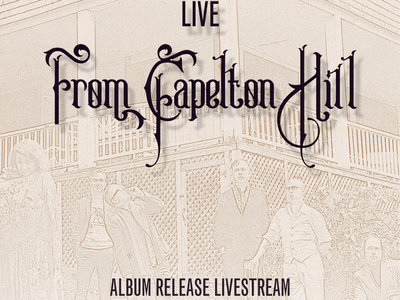 From Capelton Hill is released on 27 May
Tracklist
1. Palmistry
2. Pretenders
3. Patterns
4. Back To The End
5. That Girl
6. Build A Fire
7. Capelton Hill
8. Hoping
9. To Feel What They Feel
10. If I Never See London Again
11. I Need The Light
12. Snowy Owl
Stars — 2022 Tour Dates
06/04 – Vancouver, BC – Hollywood Theatre
06/06 – Seattle, WA – Madame Lou's
06/08 – Portland, OR – Aladdin Theater
06/11 – San Francisco, CA – August Hall
06/13 – Los Angeles, CA – The Masonic Lodge at Hollywood Forever
Share this :