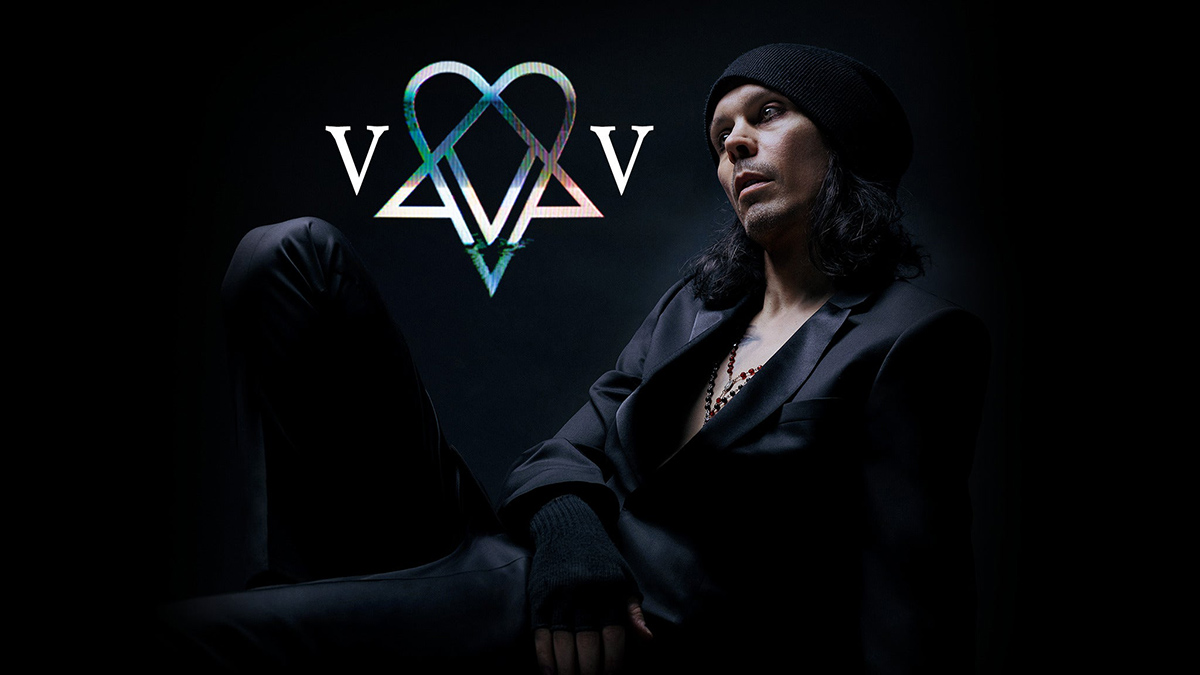 Ville Valo, the Finnish Love Metal pioneer, is one of the most unique and influential artists in 21st-century alternative rock history. His band, HIM, was widely recognized as iconic and distinctive, and their music had a significant impact on fans around the world. Despite being both highly praised and criticized, the band's music and image, represented by the scarlet letters standing for "His Infernal Majesty," stood out as different from the norm.
This week Ville Valo released his solo album "Neon Noir" via Heartagram/Spinefarm Records, and Montreal Rocks caught up with him via Zoom from his home studio in a cautiously optimistic mood.
"It's quite weird, you know, coming out of the pandemic, it took a while for me to get my head straight and to record the album. It takes a bit of time to get acclimated to humanity, you know, going out and meeting people and going back to the land of the living after being a studio rat for many, many years."
So you're back out in the land of the living with a new album, and I have to say, you've come up with a perfect title for this: Neon Noir.
"I had the song Neon Noir finished before, and I was on the verge of calling the album Flashdance Macabre because it is from the lyric of the song, but I thought that not necessarily people will know Dance Macabre and the whole Flashdance era. So I thought that Neon Noir is the easier way to get introduced to the sort of, like I would call it Blade Runner-ish mishmash of all different styles. You know, that's sort of eighties neon lights coming together with a bit more film noir and Scandi noir sort of drama.
I've been thinking about it in terms of film, and I think that Blade Runner is probably the closest, it has romance, it has this sort of Philip Marlow type of film noir detective story, and it combines many ages and many different, well, I'm not comparing my album to Blade Runner, that's for sure, but of a similar sort of vibe. I thought for Neon Noir; what I like about the title is the fact that those two words are, there's not a lot of words that can be considered wholly universal. And those two words are, I think you don't have to speak French or English or whatever language to understand what it's all about. And I like the idea of sort of radiant darkness, that there can be this sort of sparkling, like a UV disco, I guess.
And then, musically speaking, it is the, you know, melancholy and sad music still makes me happy. That's what rocks my boat, and I still haven't made up my mind whether I wanna be Dave Gahan or Ozzy Osbourne. So I think I fall somewhere right in between Depeche Mode and Black Sabbath. So that's kinda like, that's my comfort zone musically speaking. And I think the title covers that up quite well, and it's a bit cheeky, so it has a sense of humour about it too, so it's not too serious."
So, where did this album start for you? Give me a rough timeline.
"Well, my previous band HIM, disbanded on New Year's Eve 2017. I then did a project here in Finland where I sang an album in Finnish, and we toured a bit. It was very retro, sort of sixties and seventies-influenced pop music. Schlager music is the pop music in Germany; it's sort of like dumbed-down pop music. But it's not far off from that sort of stuff, maybe like fifties guitar music like The Shadows and Dick Dale. And then a lot of cover tunes, originally American or English songs that have been translated to Finnish. That's the stuff my parents were listening to when I was born. So it was a cool thing to sort of pay tribute to my parents and also challenge myself by getting the opportunity to sing in front of very different audiences. Lots of old couples dancing away, traditionally. And we played jazz festivals and all that sort of stuff. I think I learned from that some sensitivity and different sensibilities, which then you can possibly hear some of the more tender moments on Neon Noir that were influenced by that.
But anyway, that took from early 2018 to the fall of 2019, and that's when I started working on Neon Noir. I wrote the first song, Runaway From The Sun around September. Originally they were supposed to be demos, but I thought they started sounding pretty good. I played them for Tim Palmer, a producer and mixing engineer who I've been working with quite a bit. He liked them and wanted to give them a go. We really enjoyed how it all came together and decided it would be wise to put it out as an EP without a record label and without telling anyone what we were doing. Just as a surprise. And the surprise for us was the fact that we uploaded it the same week when all the lockdowns started. What a weird timing. We saw it as testing the waters to see how people were reacting to the new music and whether they had any interest in this sort of racket at all after all these years. And also record companies, if they felt there was something they'd like to work with. So it was the start of testing the waters, and that was when COVID hit full-blown everywhere. And when the lockdowns kept on, on and off and going on and off, and nobody really knew what was going to happen next, everything got postponed and cancelled. And that made me want to focus on music entirely and sort of forget about the outside world. And that's what I did until the beginning of 2022. I think The Foreverlost was the last song I finished, and that was in late February or early March, after which we did some additional mixing and mastering and cover artwork. And ever since then, I've been working with the band to get the tour going and figuring out the setlist and what songs to play. It's been a lot of work, and with COVID, the lead times for vinyl pressing plants have been incredibly long – they used to be three months, but now they can extend up to eight months. So we have to have the album finished, mastered, and ready to go eight months before it hits the shelves, which is quite weird and unusual. But since it's a rock thing, it's essential to have the vinyl coming out at the same time as the digital version on streaming platforms. I've been working on this since September 2018, and it never ends. I hope to get a little bit of a breather in 2024, but I'm not complaining."
Watch the full interview below:
"Artistically speaking the main difference between HIM and VV is the extra line in the Heartagram, but what an exquisite line it is! It's the Mamas and the Papas dressed up as Metallica on their way to a Halloween bash at the Studio 54, and now who wouldn't want to witness that?"
"Neon Noir" is out now via Heartagram/Spinefarm Records.
Share this :