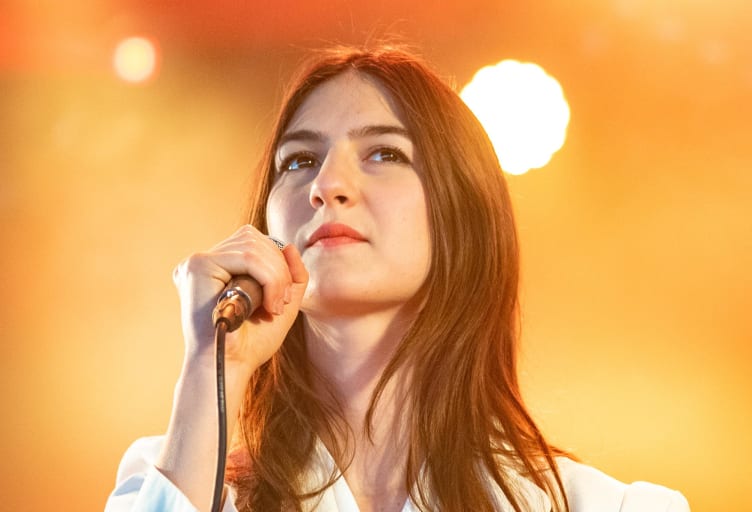 Molly Lewis
First up on this night's schedule, Molly Lewis walks to the center of stage wearing a floor-length glamorous red dress, her long blond hair draped over her shoulders. The room falls silent as soon as the music starts, waiting in anticipation for the sound of her voice.
Yet, instead of singing, Molly Lewis begins whistling into the microphone. I thought to myself, "What an interesting way to start off a song." but as she went on, I began to realize that she wouldn't be singing at all. And with a quick google search, I found out she's a musical whistler.
Before this performance, I had never heard of musical whistling, and at first thought it wouldn't seem to be all that interesting, but it's the complete opposite. I understand that this wouldn't be for everyone, that whistling to a song would seem simple, but I was absolutely amazed.
I and many others in MTelus were watching her in awe as she danced along to the melodies, swaying her hands expressively while whistling notes in outstanding pitches. A novice whistler like myself could never dream of producing notes as smoothly as Molly Lewis.
She was quite charming with the crowd as well, giving greetings in a soft-spoken voice. "It's always wonderful to be back in Montreal." She says, earning the crowd's affection. "I love Montreal this time of year." And she begins to whistle another song. Once her last high and long note had finished, she then admits, "It is wonderful to be in Montreal, but I was joking about loving it at this time of year." The crowd shares a laugh with her, utterly enthralled by her elegant charm.
The spotlight shining on her switched over to a hue of red that perfectly matched her dress, accentuating its glimmer. Her performance was so classy and elegant and brought me to think about how much I appreciate the opportunity to be reviewing shows like this.
I don't see myself as a critic of any means. I review shows because I love live music and how it can enthrall masses of people, and I like to keep
an open mind to unconventional performers. This was something I had never seen before, and it piqued my interest. Molly Lewis had my complete attention the entire time that she was on stage, and I hope to see her perform again the next time she returns to Montreal.
Weyes Blood
While everyone waited for the stage to finish prepping, an animation of a smartphone with an irritated expression, a tie, loafers and cartoon-gloved hands waited impatiently, tapping its foot and checking its watch every now and then. I thought it was humorous, and as time kept passing, I found myself relating to that animated cell phone.
It was well worth the wait, though, and as the room went dark and the stage was lit up, the crowd started cheering adoringly for Weyes Blood as she and her band members took their positions on stage. She wore a white dress with a matching white cape, both reaching down to the floor.
Her voice rang through the venue, reverberating beautifully while her band members played perfectly together. Another extremely elegant performance.
Weyes Blood's voice was beautifully sweet, smooth as silk as it passed through everyone's ears. The crowd stood so still, eyes locked on her as she sang to a venue filled with her admirers. They cheered as she danced, completely and utterly enchanted by her presence.
After a few words of greeting, she picked up her acoustic guitar and asked her audience if they were ready to rock. After the response, she continued, "We'll rock it really gently for you all." and joined her band in playing "Children of the Empire" as gold and red lights shone brightly behind her.
She was incredibly angelic on stage, her deep voice putting everyone, including myself, under a sweet trance.
"So, I've been coming to Montreal for quite some time. Think I've played some grimy noise shows here before. I guess I haven't played here since 2019. And I think we can all agree that since then, a lot has changed." she said, seamlessly opening her next song, "A Lot's Gonna Change."
I came to this show blindly. I hadn't listened to any of Weyes Blood's material, and I don't regret that one bit. I felt so moved by her performance. A warm feeling fluttered in my chest as I watched her sing her lyrics so profoundly. I hadn't listened to her music before that night, but I definitely have started now.
She continues on, explaining that a documentary filmmaker named Adam Curtis had put together some visuals for her set, and invited everyone to church for her next song.
The stage was dark; a single yellow light shone behind her, creating a magnificent silhouette and bringing her dress and cape to glow golden. These visuals played in the background, various scenes of people in a multitude of situations and profiles. The only thing you could hear was Weyes Blood's wonderful voice singing of the frustrations that expectations for oneself brings, how exhausting it is to be a person with complexities and dreams. She begs God to turn her into a flower.
I'm not a religious person anymore, but her voice was so compelling that it felt like a religious experience to hear her belt out those notes. The song's pace picked up, and the clips projected behind her flipped through faster and faster, bringing everyone to a point overwhelmed with emotion. And as I write this review relistening to this song, "God Turn Me Into a Flower," I am brought to that same feeling.
When she sat down in front of her piano, I expected this next song to be emotionally charged as well. Yet, to my surprise, the feeling in the venue completely changed from one of sorrow and melancholy to one of joy. The stage is dusted with green and purple lighting, and the audience starts to dance and sing with her to this cheerful song.
This flip in mood was so overpowering, completely enveloping the venue with fast and upbeat music. Weyes Blood is undeniably captivating in many more ways than one.
Once the song was over, she announced, "Now… Let's start the rave portion of the night," and with a flip of her cape, pink lights overtook the stage, her band beginning to play music considerably different than the rest of her set. She sings in a tone much higher than before, keeping up with the fast rhythm her band was producing.
As she danced on stage, her chest suddenly began to glow an excellent shade of red, as if her heart was shining through her ribcage. As the song came to an end, she wrapped herself in her cape, and the electronic rhythms of her next song, "Movies," began to bounce around the venue while the audience cheered loudly in anticipation.
Even though the feeling in the room changed and the genre had shifted, Weyes Blood stood on stage and sang just as I imagine an angel would. Her voice still had everyone's heart in its clutches.
Before her last song, she took the opportunity to introduce the members of her band. She thanked Molly Lewis for opening and then asked the crowd if anyone had brought any DVDs for her. She takes them from her fans up front, growing her collection with a copy of Scooby Doo, Devil Wears Prada, and a few others.
Once her last song had ended, the glowing light on her chest dimmed, and she took her leave off stage. The crowd screamed and cheered for her to return, excitement getting the better of everyone in hopes of hearing just a little more of her voice.
She played "Something to Believe," a song I think is a fan favourite. My evidence being every single person sang the lyrics so loudly that I could hear them just as clearly as when Weyes Blood sang.
For her last song, her band leaves the stage. People in the audience shouted titles to songs they wanted to hear, and after listening carefully, she flipped her guitar pick to decide between the two that were highly requested. It landed on the side representing "Picture Me Better." She strummed her acoustic guitar and sang the lyrics while everyone stood in silence, soaking in the last few moments of that magical night.
Review – Jamie Siddall
Share this :