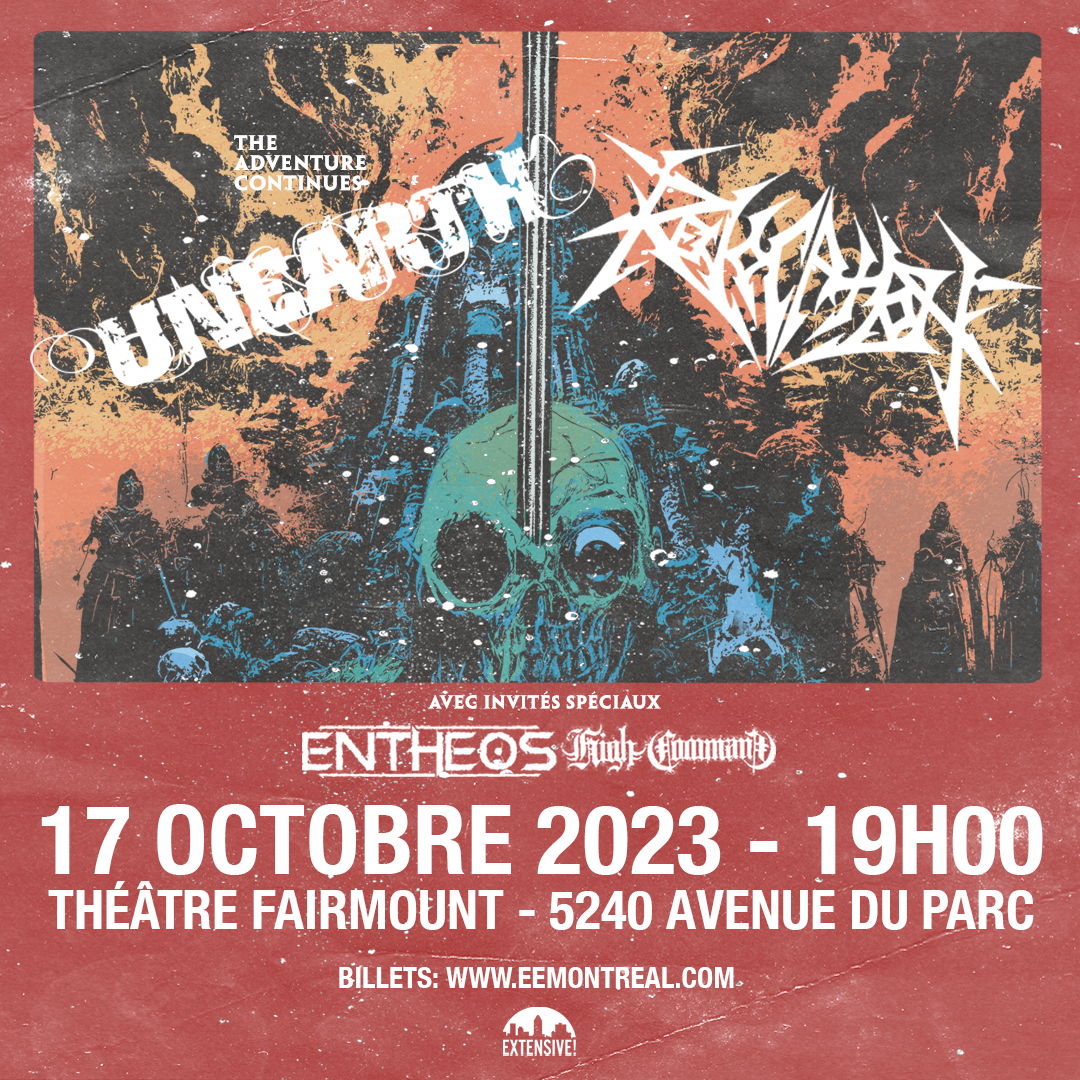 A significant metal night took place at the Fairmount Theatre, featuring some long-running veterans visiting Montreal.
Once again, I was most excited for the opening band, High Command, who had recently visited us. Since the last time I saw them live, their latest album has been a staple in my weekly playlist. Their style melds the classic high fantasy aesthetics of traditional metal with the intense force of contemporary crossover thrash metal and hardcore. It was a high-energy show, with the audience headbanging to the music and exploring the band's tracks. The highlight of their set was when the lead singer brandished a massive sword on stage, singing with fervour. If you're a fan of classic metal, I highly recommend their latest album, "High Command Eclipse of the Dual Moons."
Up next was Entheos, and they were a hit with the crowd. The vocal range of lead singer Chaney was impressive, encompassing both deep, monstrous lows and piercing highs. The gathered metal enthusiasts seemed familiar with their songs and actively headbanged to them. For those unfamiliar, Entheos can be characterized as a contemporary technical progressive deathcore. While I don't particularly favour this style, the friends I attended the concert with adored it. My issue was the current metal trend of only having one guitarist and no bassist on stage, instead using a simple backing track. Maybe I'm just an old-timer lamenting changes, but I believe a live show should have performers playing all parts. Nevertheless, the crowd seemed to adore their act.
Following was Revocation, the technical death metal stalwarts. Active since 2000, I'd never managed to see them live in our city before. The wait was worth it; they were a spectacle on stage. The string players are genuine maestros, captivating the audience with their rapid and intricate death metal. They delivered an extended set that included my favourite song of theirs, "The Outer Worlds," complete with its otherworldly themes. It was a stellar performance that had the crowd moshing and singing along. If you aren't acquainted with them and have a preference for the classic essence of technical metal, give them a listen.
Unearth was the headlining act, exuding boundless energy with their archetypal metalcore sound. Having been on the scene for over 25 years, Unearth is no stranger to Montreal, having performed here numerous times. Their dedicated fan base never tires of seeing them live. These seasoned musicians have deep ties to both the hardcore and metal communities and showcased all their zeal that evening. The concert was a fusion of hardcore madness with stage dives and the ardour of heavy metal enthusiasts. Their setlist was a blend of tracks from their recent album, "The Wretched; the Ruinous," and time-honoured fan favourites. Their latest work feels refreshing, with dynamic and exhilarating tracks. The audience's energy reached its zenith when hits like "The Great Dividers" were played, and they concluded the concert with their signature song, "Black Hearts Now Reign."
It was an evening brimming with metal brilliance and technical expertise, appreciated by all the metal aficionados present.
Kudos to Extensive Enterprise for orchestrating another splendid evening!
Review – Jason Maher
Share this :