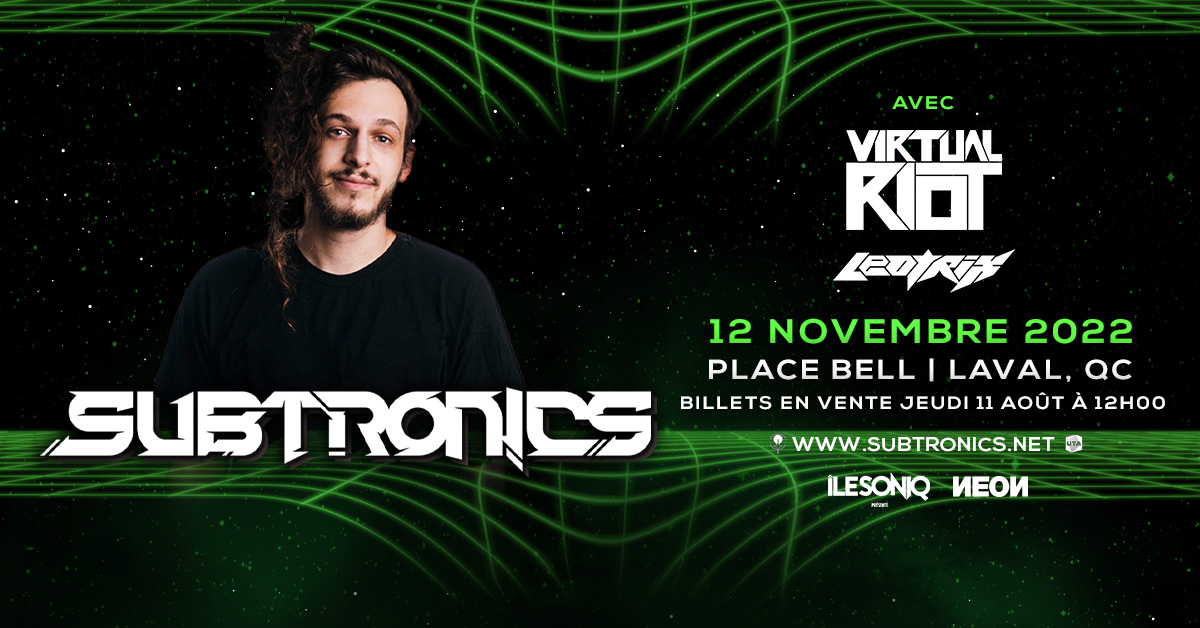 One of the most loved and impactful artists in the modern electronic music industry has finally come to Montreal once again.
After sub-headlining "Ilesoniq" this past summer, Subtronics was back to finally play his very first headline stadium show thus far. This time he brought friends Virtual Riot, Leotrix, and Izzy Vadim along for this special moment.
The release of his highly anticipated debut album "FRACTALS" garnered over 11 million streams in only the first month of being released. Following this release, Subtronics has been melting minds across North America. Often compared to one of the legendary founding fathers of dubstep, Excision.
Considering this was Subtronics's first headline stadium show, I would have never guessed. The stadium nearly sold out, with only a handful of balcony tickets remaining. Scalpers were selling floor seats for hundreds of dollars.
Upon approaching the stadium, I could already hear the bass from just about a block away. However, knowing Subtronics I expected this from him. I was so excited to get inside that my legs physically couldn't move fast enough.
As I finally entered the venue, it was so loud I kept forgetting the stage was another floor below me.
One of my favourite parts of the night was getting to see everybody's outfits. Glitter and fluorescent spandex was all I could see, as well as miles of full coat racks.
After finally finding the right entrance, I was immediately welcomed with blue, green, and yellow lasers, nearly blinding me in the best way possible. The way the light technicians were matching them with Subtronics's explosive "riddim-dubstep" drops was truly one-of-a-kind, and an out-of-body experience for me.
The easiest way for me to describe "dubstep/riddim-dubstep" to someone who may not be as familiar is to call it EDM for headbangers. Subtronics captures this exceptionally well, as he for sure was the cause of thousands of people waking up with sore necks the next morning. I was definitely one of them.
My most memorable moment of the night would have definitely been when Subtronics played my favourite song off "FRACTALS" called "MetaFractal." The amount of bass emitted by this song tickled my eardrums in the best way possible.
As the night began to come to an end after a 30-minute extended set, Subtronics wished everyone a safe commute home and reminded us to eat, drink water and that he loved us.
Subtronics's heart and music is one of a kind, and with each performance, he continues to make the world a better place and leave a lasting mark on the EDM community.
Rachel Lynn
Share this :