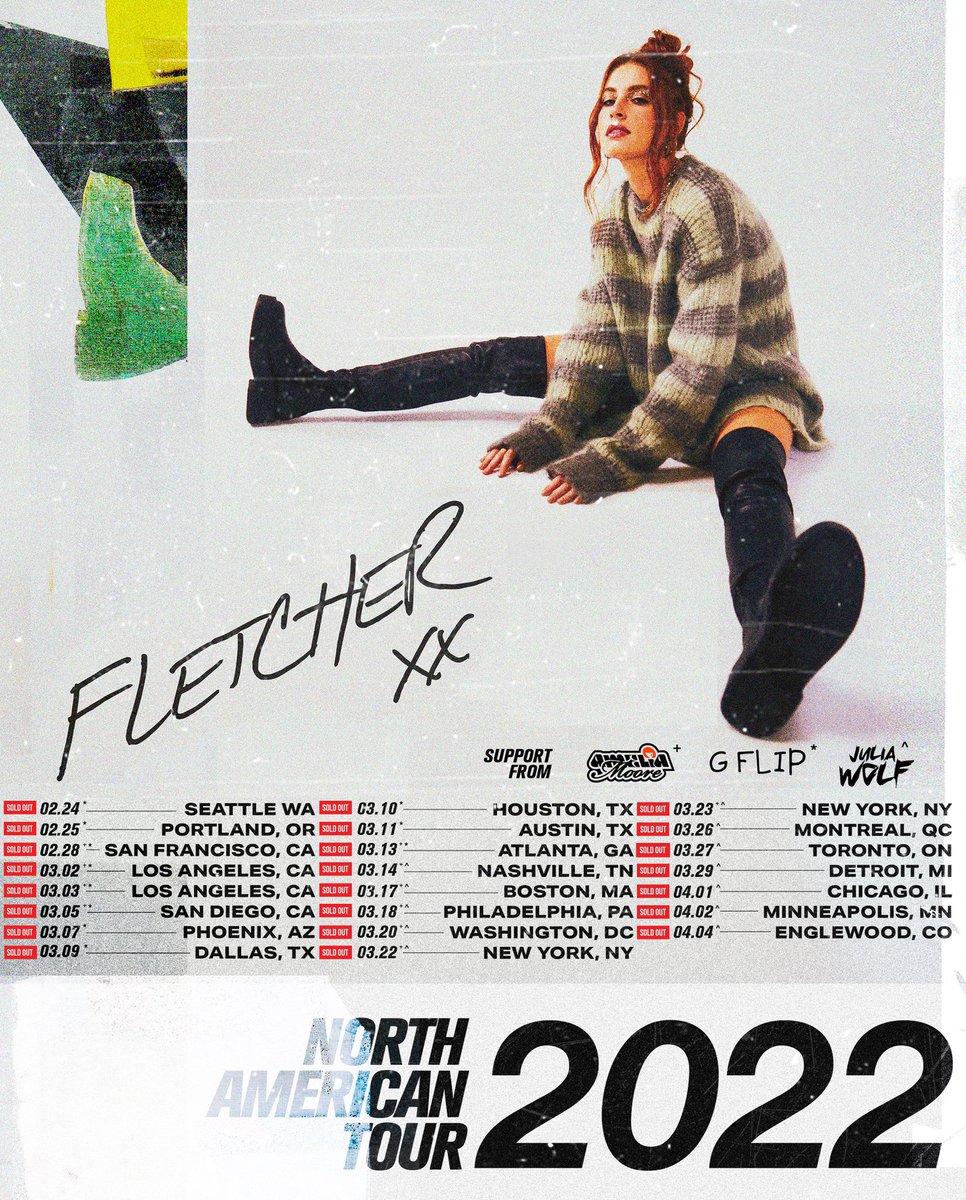 Queer global phenomenon Fletcher has taken the world by storm.
Following the release of her hit single "War Paint" in 2015, Fletcher has been dominating the charts with various hit singles and EPs for nearly seven years. 2022 was finally the right time to share her highly anticipated debut album, "Girl Of My Dreams."
"Girl Of My Dreams" took listeners on an intimate journey through Fletcher's most personal experiences. Through her emotional lyrics, she taught many young fans how to handle heartache, love, and find your inner sexuality.
Her show at Montreal's MTelus fell nothing short of these claims.
Upon entering, the energy of the venue was nearly vibrating with excitement. The first thing I noticed was how packed it was. Fans were nearly stuck to each other, filling the entire space. I was honestly not surprised at all, as the show was sold out amongst every one of the other stops along her tour this year.
As I attempted to make my way as close as possible to the stage, I had only made it just about mid-way. I was stuck. I had never seen so many people packed into a spacious MTelus before.
It felt as if I could have hit a brick wall instead. I overheard that fans had been holding their spots outside in line for hours since about 4pm that day. I was stunned, as well as excited, to hear how dedicated Fletcher fans truly are. I knew at that moment, this was going to be unlike any show I'd seen before.
Gazing at the stage in front of me, I was deeply impressed by the setup. Production had carefully put together the stage to look like the entrance of a house, with the words "Girl Of My Dreams" displayed on the front. There was a swing set and a door in the middle, hinting at some of the many surprises Fletcher had up her sleeve.
Looking around me her audience is primarily female, with few men present. Many were young and came with friends who were both equally as excited to be there. I had to remind myself at times of who exactly I was seeing here. Judging solely by the anticipation of the crowd, It could have easily been superstars Ariana Grande or Billie Eilish performing. This further proves Fletcher is our next generation's rising star.
Lights soon dimmed, as well as my hearing almost instantly. Screams immediately filled the atmosphere and Fletcher had at last taken the stage. She wore a white brassiere with oversized red bottoms, representing signature Canadian colours.
Fletcher alternated between performing closely in front of the audience and high on the roof of the makeshift house created. She delivered intimate, raw, and explosive performances of many songs off her album "Girl Of My Dreams". Such as "Guess We Lied," "Conversations," "Serial Heartbreaker," and "Sting."
The audience was just as loud as her from beginning to end.
I know it seems like an exaggeration; however looking around me, everyone knew each word of every song by heart. It made me smile to see so many people who are strangers to each other bond over an artist so passionately.
What happened after the show was probably my fondest memory of the night. The entire back alley of MTelus was filled with eager fans hoping to meet Fletcher after the show. They waited for a whole hour, with the lineup only growing longer. It was 12:30 am at that point, and even though she was exhausted after a show, Fletcher still came out to see us with a smile.
She went down the line and signed something for every single person who waited, including my set list, which I was able to get from the night. It was quite a long line and very late, but still, she wanted to make sure all her fans went home happy.
In the music industry nowadays, the number of openly queer female musical artists is a small one. Fletcher has proven once again she is a beacon of hope. For many, with minds and hearts like hers.
Fletcher is truly an artist to watch for many years to come. Her love for her fans is one of a kind and one of the many reasons why I think she is so successful and beloved. She continues to allow her fans to see a little bit of themselves on stage.
This is only the beginning for Fletcher, as I know the next time I see her will be at a sold-out stadium instead.
Rachel Lynn
Share this :