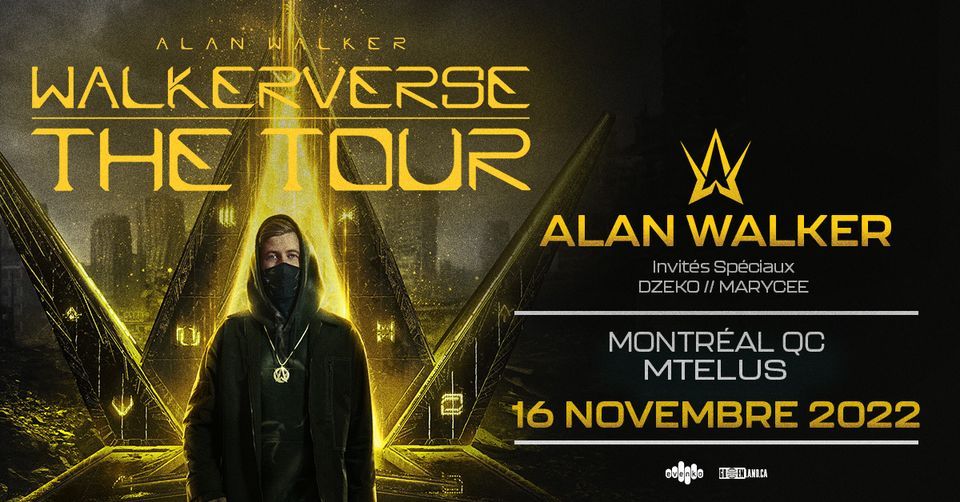 Internationally acclaimed electro-house DJ Alan Walker has been touring the world for nearly a decade. Following the release of debut single "Faded" in 2015, Alan Walker has accumulated an amassed fanbase of longtime loyal listeners as well as new ones.
The announcement of his latest tour supporting new album "Walkerverse Pt. I & II" shocked fans internationally after a busy summer of playing festivals. One of which was Montreal's Ilesoniq this past August.
Tour dates were quick to sell out, including Montreal's MTelus as fellow collaborator and longtime friend Au/Ra was announced to be supporting all dates.
The energy upon entering MTelus made me feel warm and welcomed. There's something special about Alan Walker's euphoric energy. This feeling made me extra excited for his show to begin as this was also my first time seeing him live. Many fans there that night had already seen him perform at Ilesoniq that summer, so I had no idea what to expect as a longtime listener.
Looking upon the stage, it was beautiful. Although simple, I thought it was spectacular. Alan Walker's sound desk was incorporated into his signature logo, which was made into a giant display that lit up with different colours.
Although the show was sold out, it wasn't too difficult for me to get closer to the stage. Many people were in the centre dancing and eager to welcome more who weren't. This was another display of the welcoming environment Alan Walker has managed to create in the EDM scene.
Not even 10 minutes into his set, and he was already dropping heavy bass which reminded me of Psytrance and Hard-Techno. I've never seen this from him before and I was absolutely thrilled. Screams quickly filled the atmosphere. Many of his released songs explored more of a euphoric and softer version of house, similar to the common and popular sound of EDM in the mid-2010s. It's very clear to me now how far Alan Walker has grown as an artist, and has shown there is always something new to learn about his music even after all these years.
About mid-way through his set, Au/Ra was invited on stage to perform some of the many songs they had collaborated on over the years. Her long teal ponytails twirled around her swiftly as she danced her way across the stage. The audience couldn't get enough of it.
They performed many songs together such as "Somebody Like U" which appears on "Walkerverse Pt. I & II" as well as "Darkside" which has over 502 million streams on Spotify to this day. The crowd knew all the words, and was just as loud as her.
As the night was now coming to an end, "Faded" finally played. He put his hands up into a heart toward his fans, which is one of his signature trademarks at his shows. He also wore his signature black mask and hoodie, which he has said signifies that he's just like us and that anyone can be like him one day. His love and devotion for his fans says alot about him, and it was a real privilege for me to finally see Alan Walker for the first time.
Rachel Lynn
Share this :